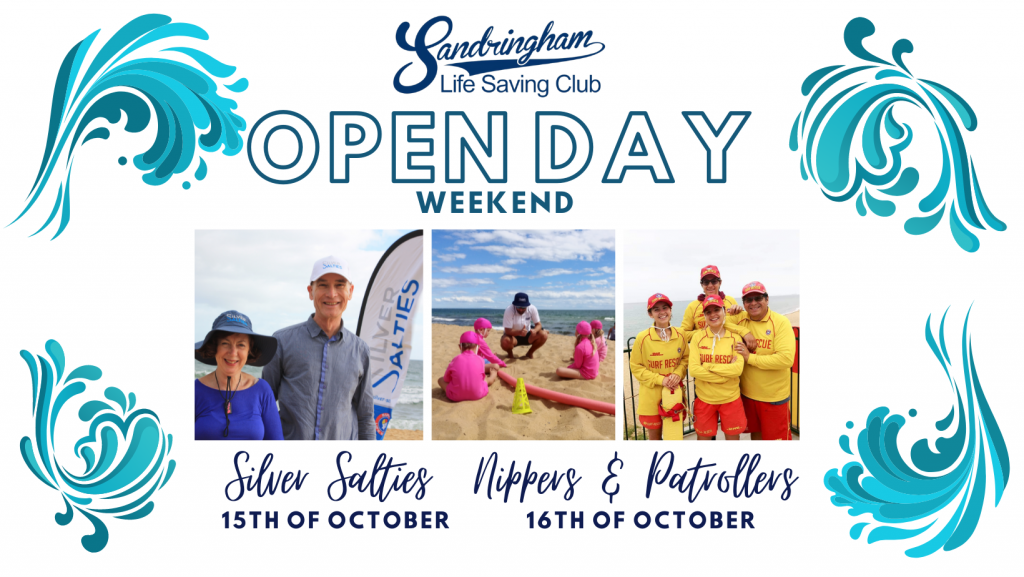 Over Friday, the 15th and Saturday, the 16th of October we will be holding an Open Day Weekend. It is our pleasure to invite all new prospective members to join us and learn all about our club and the programs we have on offer.
Due to current restrictions, we will be holding our Open Day sessions online. Please see the schedule below and follow the links provided to register your interest. We will be in contact with you with more information and zoom links closer to the date.
In the meantime, if you have any questions please do not hesitate to contact us via comms@sandringhamlsc.org.au.
Silver Salties – Friday, 15th of October
Silver Salties is a physical activity and social connections initiative for older Australians designed by Surf Life Saving Australia and supported by Sport Australia's Move It Aus – Better Ageing Program. Silver Salties is designed for older Australians, however people of all ages can participate.
Please find the session outline below and please fill out the Expression of Interest form to be contacted with zoom links and more information.
9:30am Yoga
10:30am Tai Chi
11:30am Qigong
1:30pm Pilates
Nippers & Lifesaving – Saturday, 16th of October
For more information on our Nippers, Cadets and Lifesaving programs, please come along to our Q&A sessions to learn all about them! As a family friendly and community orientated club, we are increasingly proud of all our programs. Join us and check them out!
1pm Nippers – Click here to register your interest
Nippers is a great way for children to make friends, be active, and enjoy the beach in a safe environment. We currently have around 180 children actively participating in the Sandringham Nipper program, which runs on Saturday afternoons throughout summer.
2pm Cadets – Click here to register your interest
This season we are looking to expand our Cadet Program to show the clear transition from Nippers to Patrolling. Cadets are aged between 13 and 15 years. Cadet members begin by training for the Surf Rescue Certificate (SRC), which includes on the beach training. This certificate is the minimum requirement to become a patrolling lifesaver. Upon achieving the SRC, Cadets will be placed on a roster to perform beach patrols under supervision. They will also be taking on a leadership role in the club, as mentors to the nippers and assistants to the Nipper Age Managers.
3pm Lifesaving and Training – Click here to register your interest
Our Lifesaving team is a fun, cohesive and dedicated unit that provide beach and water safety between the flags. We patrol every Saturday, Sunday and Public Holiday over the lifesaving season (mid-November until Easter). Coupled with our Training program, our lifesavers are highly skilled and passionate individuals, proud and enthusiastic about serving our community.
In the meantime, if you have any questions please do not hesitate to contact us via comms@sandringhamlsc.org.au.